Predictions are novelties but "actions speak louder than words". The only question about the future that any of us can actually answer is "What will I do?"
Long Live George Jetson
When I was a kid, I loved The Jetsons cartoon. Watching George flying to work, dropping off daughter Judy, Boy Elroy and Jane his wife, then arriving to have his personal air-car "transform" to his briefcase fascinated me. The whole show was a prediction of the future but the characters were just like people in my everyday life.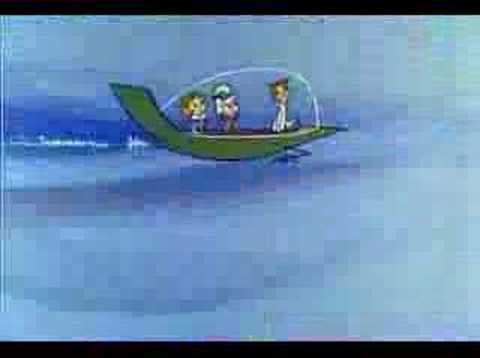 Live to See it Happen
I have seen much of the technology portrayed in The Jetsons come to pass. Watching this show fueled my own dreams of the future. That was a good thing for me and for that I know that watching cartoons was NOT a waste of time! Most of all, it was FUN.
Any prediction of what will happen in the future is really just a folly, a bit of fun for the mind, doesn't mean much in "the big picture".
Resolutions Stink
Big, broad-stroke resolutions don't work well. If you say you will lose fifty pounds but on this day your diet consists of pizza, burgers and beer with no exercise, you are likely setting yourself up for failure. If you however say "I will change my diet in the next month and start a daily exercise routine, you are much more likely to succeed.
Ask "What will I do?"
It's really the only question. Years ago I made a New Year's resolution to never make another New Year's resolution! It worked. No longer do I make the big proclamation. Instead I try to focus on small things, small steps that can lead to a bigger result.
Make it real, make it personal
It can be as simple as "I will get the trash out on time each week." or "I will write consistently for my blog site." Those things that are real and attainable short term, I have found, are easiest to focus on and actually accomplish.
———————————————————————————————————————–
Related Posts, what do you think of these?
(click titles to read full posts, thank you)
Focus on What You CAN Do, Not What You CAN'T
Reality Check: You are What You DO, Not What You SAY
THANK YOU
2012 was a great year for new interactions via this blog and on Facebook and Twitter. Thanks for your kind support and friendship online.
Happy New Year!
YES, THE DEBUT CD RELEASE FROM TRACE RELATIONS IS HERE>
Trace Relations Debut CD – Prosperity Street I have been passionate about music, songwriting and singing my entire life. I've had many experiences (good and bad) in the music business. Many years ago I asked myself "What will I do about it?" Since then I have focused on doing a little at a time towards an overall goal. It took much longer than I anticipated with many of life's challenges getting in the way (12 years!). But hey, it's here now and we're damn proud of it, hope you enjoy…
About the Documentary: South Texas Soul Documentary Features Legendary Texas Musician Augie Meyers

CD Available Now HERE: Trace Relations "Prosperity Street" CD Online

About the Trace Relations CD: Indie Music, Texas Groove: Trace Relations Release "Prosperity Street"
Trace Relations – Prosperity Street: This CD debut from the band Trace Relations is a unique listening experience encompassing Rock, Blues, Jazz and Americana styles.
It's twelve tracks of Texas groove guaranteed to improve your mood. Twelve years in the making, 'PROSPERITY STREET' is the culmination of two divergent lifestyles where songwriter meets filmmaker, merging on the highway between Dallas and San Antonio, Texas. It features a dynamic Dallas based rhythm section and guitar prowess from San Antonio's Kevin Lewis, plus guest appearances from Augie Meyers and Shawn Sahm of Texas Tornados, Katherine Dawn, The West Side Horns and more. Visit
Trace Relations ™ official site
for more information.
Like This?
If you do, would you please do one or more small favors for me? I'll be your biggest fan…

1. Sign up for newsletter HERE > The Social Freelancer ™ News publishes one email a week on Thursdays, 9 AM central standard time, no spam anytime.

2. Join us on Facebook HERE > The Social Freelancer ™ Facebook Page

3. Please post a comment below. Your comments here help to raise our site ranking in the search engines.  You might also post a link to this page to your Facebook, Twitter or Linkedin profiles by using the buttons at the bottom of this page.
———————————————————————————————————————–
Tracy Ready is a Writer, Producer, Director of Photography, Vocalist and Media Consultant based in Dallas, Texas USA – contact tracy@traceproductions.com
Owner:
Trace Productions – Broadcast, Corporate and Documentary Television Production
Texas B-roll and City B-roll – HD Stock Footage of Texas, plus more U.S.A. states and Puerto Rico
Vocalist with: Trace Relations – the Band
Facebook:
The Social Freelancer ™ Facebook Page
Trace Relations ™ The BAND on Facebook
Youtube:
tracetvfilm on Youtube
Twitter:
@TraceTV – primary account for Tracy Ready: Media, Music, TV, Film, Travel, Humor
@FreelanceSocial – The Social Freelancer (TM): Social Media News, information and insight
@TraceRelations – the Band on Twitter