"Assisted Living America" Tracks History and Challenges Ahead For Long Term Care In America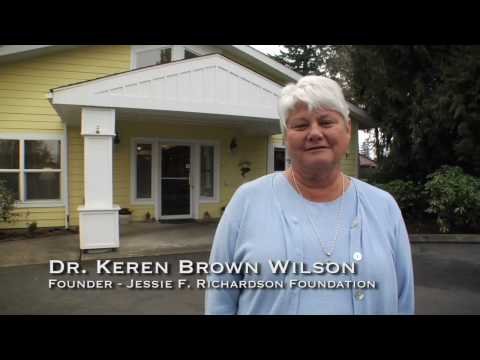 Today thousands enjoy the security and homelike feel of Assisted Living. But this environment didn't always exist, and wouldn't at all if it weren't for several forward thinking individuals who, in the 1980's, saw a need in their communities for a new style of long term care for older adults.

In Oregon, Dr. Keren Brown Wilson and her husband, Dr. Michael DeSahne, both gerontologists, were working to get Keren's vision of long term care for people with low to moderate income to be eligible for Medicaid funds through the state government.
Unknown to Dr. Wilson, Paul Klaassen and his wife Terry were facing similar circumstances in Virginia, leading them to create Sunrise Senior Living, now one of the nations largest assisted living providers.
It was a dilemma being faced by families in communities all over the country. The federal government had subsidized building of nursing homes during the 1960's, and set up Medicaid to enable people of low to moderate means to be cared for in them. While nursing homes were much needed for people with serious physical impairment, people who just needed a little extra help, but could basically care for themselves had no where to turn.
Great strides have been made in the long-term care industry in the past 30 years. Sadly, the funding of care for the elderly in the United States is a mish-mash of regulation among the states and slim on reasonable, concise plans for the future on the part of the federal government.
This film, Assisted Living America will profile the long-term care industry from its origins to its present position. Looking beyond the industry today, Assisted Living America seeks to educate the public and promote healthy debate on the future of long-term care in America.
Trailer: Assisted Living America
Written and Produced by Tracy Ready, Trace Productions
Narration by Bob Losure
This preview of the film was made possible by kind contribution from Jay Stowers of Senior Risk, LLC. This is a documentary currently in production and funding is needed to complete the full length film. We believe it is an important story to be told and are grateful for your support.
Your tax deductible donations to the following 501 C-3 non-profit foundations will support the making of this film:
Jessie F. Richardson Foundation
JFRfoundation.org
Still Kickin' Foundation
StillKickin.org
This preview for the film "Assisted Living America" made its debut in June at Assisted Living Federation of America Conference in Phoenix, Arizona. The video was displayed in HD at the industry trade show courtesy of Senior Risk, LLC.
Thanks for watching. Your support of this project is greatly appreciated.
Like This?
If you do, would you please do one or more small favors for me? I'll be your biggest fan…

1. Sign up for newsletter HERE > The Social Freelancer ™ News publishes one email a week on Thursdays, 9 AM central standard time, no spam anytime.

2. Join us on Facebook HERE > The Social Freelancer ™ Facebook Page

3. Please post a comment below. Your comments here help to raise our site ranking in the search engines.  You might also post a link to this page to your Facebook, Twitter or Linkedin profiles by using the buttons at the bottom of this page.
Need help with media training for upcoming TV appearances? Need video produced for corporate audience or broadcast television? What about Social Media? Facebook, Twitter, Youtube and Linkedin are business drivers in the new economy. Let Tracy help – Call Trace Productions (972-437-4433) or email tracy@traceproductions.com to schedule a phone consultation. We tailor our services to fit your needs. Thanks for visiting The Social Freelancer ™ blog.
————————————————————————————————————————————————————-
Related Posts: RT Please?
(click on titles to read the articles, thank you.)
Focus on What You CAN do, Not What You CAN'T
5 Sites for Learning about and Coping With Social Media (highly recommended!)
The Beauty of Blogging and Twitter
Social Strategy: Facebook is Your Newspaper, Twitter is Radio
Why Social Media Matters and How Marketing Doesn't Change ("Old Media" vs NEW)
Who Gives a Twit about Twitter? A lot of Folks…
————————————————————————————————————————————————————-
Tracy Ready is a Writer, Producer, Director of Photography, Vocalist and Media Consultant based in Dallas, Texas USA – contact tracy@traceproductions.com
Owner:
Trace Productions – Broadcast, Corporate and Documentary Television Production
Texas B-roll and City B-roll – HD Stock Footage of Texas, plus more U.S.A. states and Puerto Rico
Vocalist with: Trace Relations – the Band
Facebook:
The Social Freelancer ™ Facebook Page
Trace Relations ™ The BAND on Facebook
Youtube:
tracetvfilm on Youtube
Twitter:
@TraceTV – primary account for Tracy Ready: Media, Music, TV, Film, Travel, Humor
@FreelanceSocial – The Social Freelancer (TM): Social Media News, information and insight
@TraceRelations – the Band on Twitter