Welcome Back, Pluto!
Welcome Back, Pluto is an educational DVD written and produced to teach children and parents how to preserve good relationships in situations that threaten to undermine love and respect.
What's it all about? Check out this promotional video for the DVD release:
Entertaining, humorous, and packed with valuable advice, the program shows how alienation originates and why both parents and the children should work to prevent and overcome disrupted relationships. Welcome Back, Pluto is the only product of its kind available to families and professionals alike.
Written and Produced by Richard A. Warshak and Mark R. Otis.
Produced and Directed by Tracy Ready, Trace Productions, for WBP Media.
Note from Trace:
Working on Welcome Back, Pluto with Dr. Richard Warshak and Dr. Mark Otis was a pleasure for me, both personally and professionally. These gentlemen are recognized experts in their field, and are genuine in their approach.
I am a divorced (now happily re-married) father and have experienced much of what is discussed in Welcome Back, Pluto first hand, so producing this was also a learning experience for me. From the beginning, Richard and Mark were diligent, sincere and focused on providing clear, helpful information to the viewer.
As a Producer / Director of Photography it was refreshing to work on something that I honestly feel will help thousands of parents and children who are dealing with these issues.
About the Shoot:
For the project we chose Actress Brandi Andrade of Linda McAlister Talent to be the spokesperson. Brandi did an excellent job, delivering a complex script over two days of production on our green screen set. She handled script changes and my direction with ease. Brandi delivered the script with just the right touches of sincerity, friendliness and positive attitude. I can't thank her enough for her fine work on this DVD.
Additionally, my daughter Olivia Ready made her acting debut in this video as Emily, a troubled teenager. I am very proud of Olivia for taking direction like a pro from her Dad! She understood that depicting this character in an honest way would help children relate on a personal level to the material being presented.
There are also cameo appearances in the program by my wife Lauren, Editor Mike Schrengohst, his son Travis and Sound Technician Jason Meyers. They all were willing to donate a little time to making this project a success. Watch the DVD, see if you can spot them!
For the green screen production days, I directed, Jason Meyers did triple duty as Sound Mixer, Grip and Camera Operator. Our Production Assistant was Brad Ratliff. Both of these guys were excellent team players for this shoot, and I highly recommend them as freelancers for any production.
Shelly Johnson was the teleprompter operator on the shoot for Speakeasy Prompters – We love working with Shelly, she always shows up with a great attitude and she's quick and helpful with script changes on set.
For the dramatic vignette sections of the program I was the Director of Photography, Jason Meyers – Sound, Grip.
Our creative editor for the project was Michael Schrengohst of I-Zone Media.
I know a lot of our readers are techie, gear-heads like myself and may be interested in these details:
All original footage shot with Panasonic HVX-200 P2 HD in 720/24pn.
Editing – rough cut on MacBook Pro with Final Cut Studio by Brad Ratliff. Finish edit by Michael Schrengohst using iMac with Final Cut Studio, After Effects. Motion and a ton of other toys.
_______________________________________________________________________________________________________________
Dr. Warshak's book "Divorce Poison" now in it's twentieth printing is a good companion piece to the "Welcome Back, Pluto" DVD. I interviewed Dr. Warshak about the book earlier this year >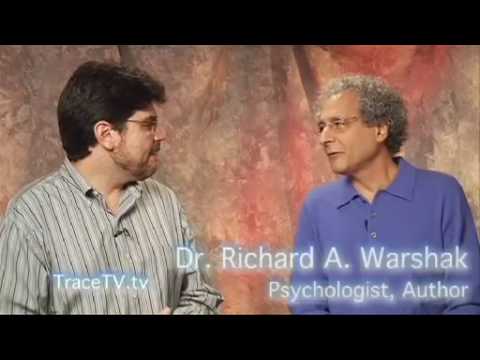 Tracy Ready is a Writer / Producer / Director of Photography / Vocalist based in Dallas, Texas USA
SEE > Trace Productions Website
Blog > Trace – TV – Film – Music – Media